!body topmargin="15" leftmargin="5" alink="#ff8080" bgcolor="#e2dfc7" link="#dd0000" marginheight="5" marginwidth="5" text="#321e04" vlink="#118dcc">
| | |
| --- | --- |
| | Chopin Prelude Keyscapes |
This page shows keyscapes for all of Chopin's preludes. Click on each keyscape plot to view a larger version.
The following keyscapes are colored relative to the tonic key of the movement: green = tonic, light blue = dominant, yellow = subdominant, purple = submediant (or relative minor for a major tonic), red = median (or relative major for a minor tonic), dark blue = supertonic (or dominant of the dominant), sea green = Neapolitan and subtonic = orange (or subdominant of the subdominant). Click here to view keyscapes colored without transposing to C.
---
Preludes, op. 28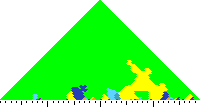 No. 13 Lento con grand' espressione
(score) (kern) (midi)
F♯ major
Script used to create this page.